Ryson Garcia
The Lyons Aviation Foundation is proud to presenT
2023 Scholarship Recipient
Ryson Garcia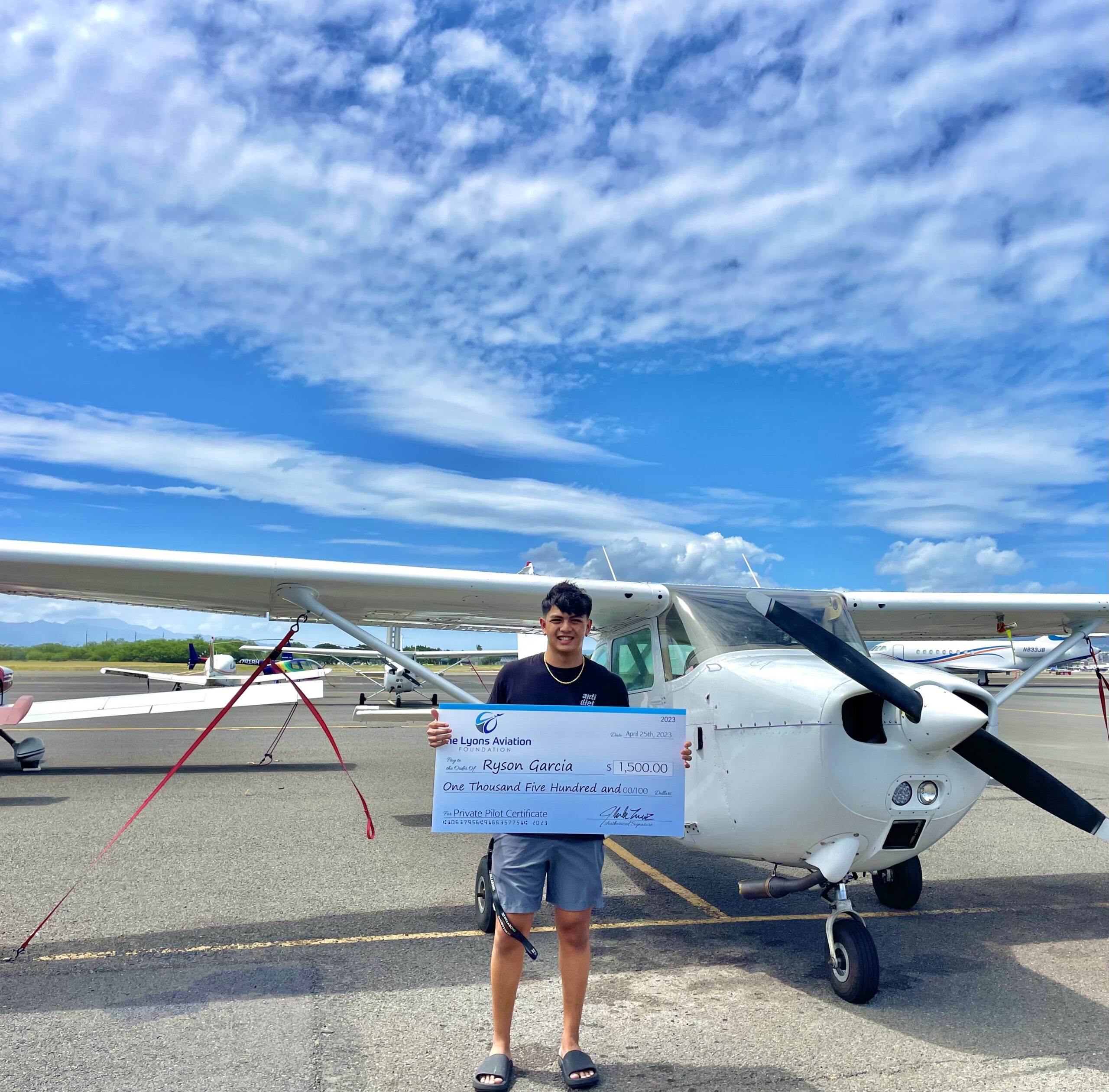 Waipahu, HI, 25 April 2023- 25 April 2023
During a summer class, Ryson Garcia discovered his love for flying while overlooking his beautiful home state of Hawaii, virtually that is. In seventh grade at the time, he was just excited to try out the flight simulator. His passion and dedication to become a real pilot was fostered from this experience and by Ryson's sophomore year he was beginning his real flight training. Now, with the help of the Lyons Aviation Foundation, Ryson's goal of receiving his private pilot's license is about to take off.
Ryson's experience behind the sticks is growing by the week. He enjoys the hours he's spent in a Cessna 172 and the RV12, but there is something about the Cessna's comfort that can't be beat. He is currently taking his lessons at Pacific Flight Academy in Honolulu. His favorite memory while flying occurred during one of his lessons when he looked out and saw a pod of Humpback Whales surfacing. Flying has given Ryson an entirely new perspective of his home and the beauty that can often only be seen from the skies.
Right now, Ryson's goal is to continue logging his flight hours and complete the FAA written test so he is able to earn his private pilot's license. After finishing this, the sky's the limit. Thanks to the Lyons Aviation Foundation, whose mission it is to support and encourage the next generation of pilots and aviators by offering financial scholarships, Ryson will have the funding he needs to finish his goals and propel his career to the next stage.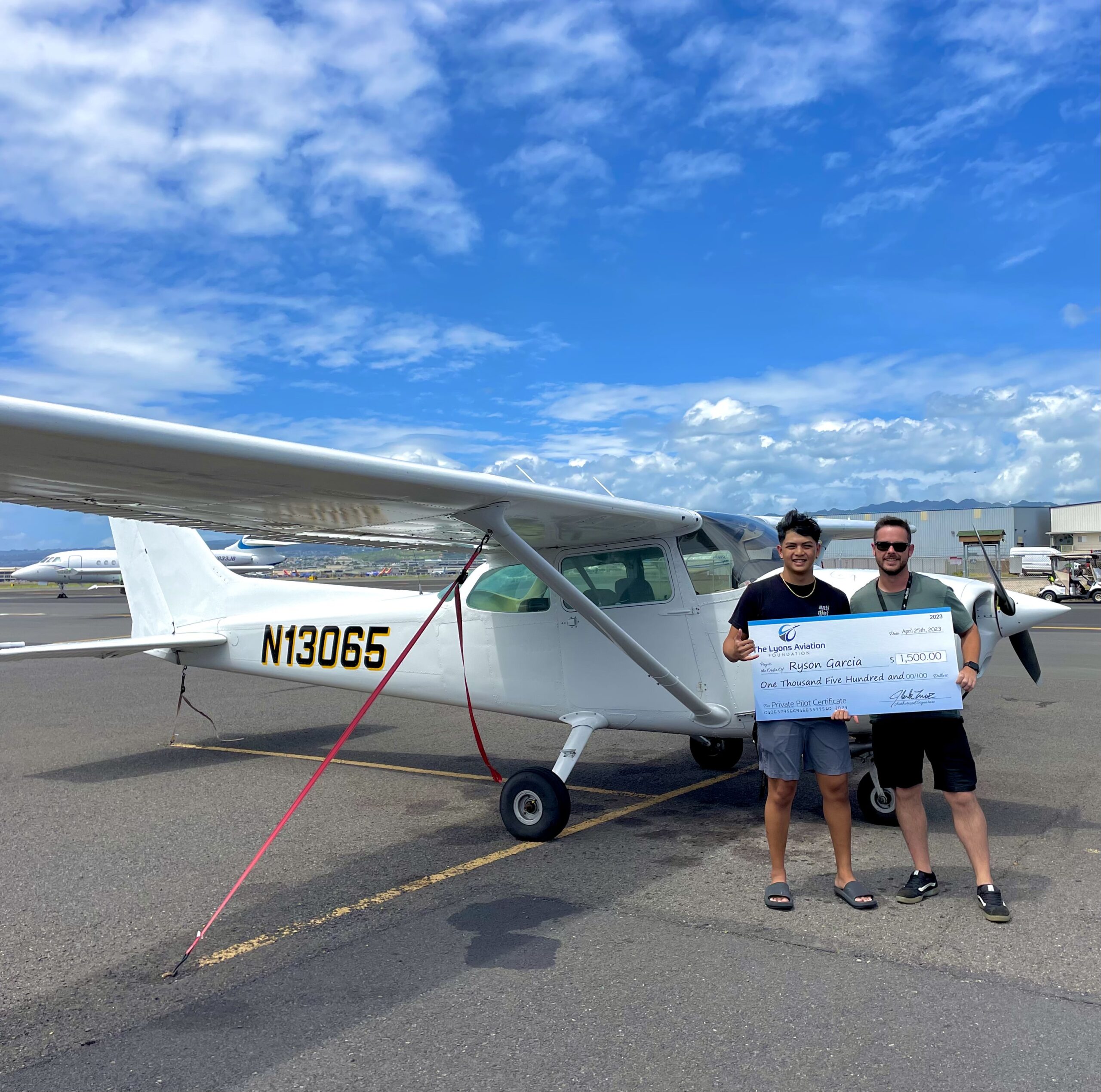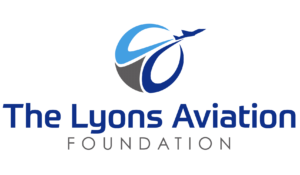 About The Lyons Aviation Foundation:
The Lyons Aviation Foundation is a 501(c)(3) non profit private foundation that exists to support and encourage the next generation of pilots and aviators through offering financial scholarships to deserving young persons who are pursuing their Private Pilot Certificate. The Lyons family has been involved in and maintained a history of aviation-related careers for over 66 years.  The Lyons Aviation Foundation story started with Rolf C. Lyons, when he entered military service at the age of 17, enlisting in the United States Air Force in 1955, with his sons later following in his footsteps. This foundation was born out of a desire to give back to the aviation community and the future pilots, mechanics, and engineers working in the field by providing an opportunity to those that might not otherwise have the means to pursue aviation as a career path.  This foundation is a living tribute to a family story and its ties to aviation, military service, and one another.  More information can be found at www.lyonsaviation.org.
"A Helping Hand on the Road to Wings"